Movin' On with Missouri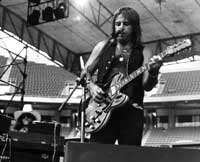 The driving force behind the long-lasting airplay and notoriety of the band "Missouri" is the song "Movin' On." "Movin On" was written by Ron West in 1974 during a full-tilt writing binge that took place soon after he left his sister's band. The song "Movin' On" was a music-poem recalling the past ten years that Ron West had spent playing on the road almost every single weekend in "The Chesmann."

Heavily influenced by John Fogarty, "Credence Clearwater Revival," and obviously "The Beatles," Ron West wrote around 30 songs within a two month period during 1974. Not wanting to get into time-consuming arguments with other musicians, Ron West wrote, played and recorded all the songs on a half-inch, four-track Tascam recorder, which his brother Gary West would later use to put down all the demo tracks for the first "Shooting Star" album. Once all the songs were in fair shape and sounded good, Ron West submitted the tapes to Chris Fritz of "Contemporary Productions."

At the same time, Chris Fritz was putting together a new record label of his own called "Panama Records" and had already put out an album by a local Kansas City group called "Gran Max." Chris Fritz had booked Ron West and "The Chesmann" for quite a few years on opening spots for his big shows in the past. When Ron West gave him a tape of his new material, Chris Fritz jumped at the chance and gave Ron an open ended recording budget.

The songs were written and the money was there, but there was no real band yet: Ron West set out to find some of the best rock players in the Kansas City area at that time. A rock-solid bottom end was the first agenda of what was needed to make "Missouri " cook on stage... and, there was a bass player in town who fit that bill. Alan Cohen had been playing with Alan Blasco (of Neon Blue) for a few years and was available. Next, a solid drummer was needed -- a drummer that could match the skill of this great bass man. Ron West sought a drummer who would tear the house down and be as steady as a heartbeat. Bill Larson had been the main beat man in a band called "Westport." Ron West was impressed with his uncanny ability to keep perfect time. Ron was also impressed by the fact that Bill Larson's nickname was "BigFoot". At 6'4", Bill Larson was always bending Pearl Drum beaters in half until they tore right through the kick head (that kind of talent becomes sort of expensive after a while). When Bill Larson was brought in on the project, lead man Lane Turner and master Road Guy Richard (Kirby) Smith came along as well. Now, only a keyboard player was missing. The album would be almost fully completed before the addition of former "Ice" key man, Randall Platt.

Strange as it seems, the vinyl album was recorded, mastered, and pressed up even before the whole band knew how to play all the songs. Ron West got a copy of the test pressing and the band started to learn the songs as if they were copying any other new song on the radio.

When the band was ready to go to the studio, Chris Fritz made a deal with "Sound Valley Studios" in Independence, Mo., commonly known to most Kansas City musicians as "The Caves." The first "Missouri" album was recorded on an old Ampex / 2-inch 16-track machine which actually had one track down so that the final tape contained only 15 tracks of music. The mix board was an old but great sounding custom-made unit bought from the original "Stax Records" studio in Nashville. Rumors were that "Green Onions" by "Booker T. and the MGs" was cut on that board. Gary Apple, a well-known local musician, started as engineer but soon had to leave and was replaced by John Mosely. John Mosely and Ron West, with a little help from Gary West, recorded and engineered the first "Missouri" album.

The recording took about three months to lay down and then Ron and the tape were shipped out to L.A. to do the final mixdown and mastering. The final mixdown was done by Ron West and Paul Ratajczak at a studio called "The Recording Suite," overlooking the beach in Venice, Calif. The mastering was done by "Century Records" in Saugus, Calif. Ron has always wished that the band had actually recorded the album in Venice. "It might have turned out somewhat better. Much better scenery," says Ron.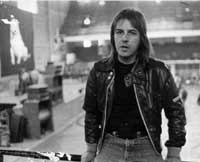 The album was released on 7/7/77, within a few weeks of Elvis Presley's death. Ron West, from his very early teens, was a big fan of Elvis, so this was a strange coincidence to him. The band continued to practice and get ready for the road while the album started getting very strong airplay in Kansas City and especially in St. Louis, Mo. "Missouri" would play their first gig as the warm up band for "Firefall" in Emporia, Kan., during the last week of September 1977. The second gig was at Memorial Hall in Kansas City, Kan., for a flood benefit with "Missouri" headlining the show and "Shooting Star" doing warm up.

Unknown at mix down time was the fact that "Movin' On" was to be the hit song on the album and that it would continue to get strong airplay for the next 23 + years. "That would have been to much to believe." As of this date "Movin' On" can still be heard in Kansas City and St. Louis; quite frequently songs from the albums will pop up on radio stations around the Lake of the Ozarks. Sales of CDs, Eight Track Tapes (that right 8 Track), Vinyl LPs, and Cassettes including the song "Movin' On" have exceeded 500,000 copies.

Music from the first "Missouri" album can be heard on the "Monster Mania" video cassette released by "United Sports of America." The "Monster Mania" tape contains footage of a huge monster truck rally and includes many monster trucks including "Bigfoot." A section of the "Monster Mania" footage was used in a major motion picture starring Barbara Hershey and Jill Clayborn entitled "Shy People." As the two stars walk into an electronics store, a small television set comes in to view. The screen on the small set shows the "Bigfoot" monster truck along with a short audio segment of "Got That Fever" as performed by "Missouri."

Artistic congrats for the first album cover go to Ron West. Having been a big fan of Nostradamus, Edgar Cayce and other writings about future prophesy since the sixties, he wanted a cover that depicted St. Louis in the year 2025. The arch was superimpossed over a scene of Monument Valley in north-eastern Arizona on the Hopi Indian Reservation. According to ancient Hopi prophesy, somewhere around the turn of the 21st century, the world would be cleansed by the Great Spirit and the evidence would be "the weaving of webs in the sky." Ron West figured the prophesy may have predicted the "con trails" of missiles and bombers crisscrossing white webs in the sky. The album cover won a first place award in the Midwest in 1977 for "Most Creative Album Cover". The idea of possible cataclysmic destruction came across again on the second album cover, "Welcome Two Missouri."

Continue this story, go to Missouri 2